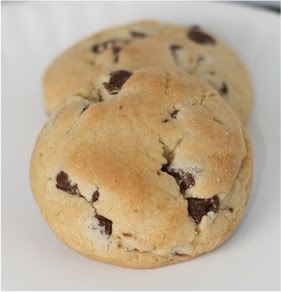 My friend Marie makes the best chocolate chip cookies that I have ever had. They are big, tall cookies that are crispy on the outside and chewy on the inside. Everyone raves about them. I have tried to duplicate them many, many times over the years. But they would never come out just right.
Finally, one day Marie came to my house and made the cookies in my kitchen. I thought for sure they wouldn't come out since I had followed the exact same recipe using my oven with no luck, but lo and behold they were perfect!

It turns out Marie's secret is to place one rack very low in the oven and one rack very high in the oven. She bakes each pan for 6 minutes on the top rack and then the bottom rack. Who knew that the rack positions could make such a huge difference? Not me!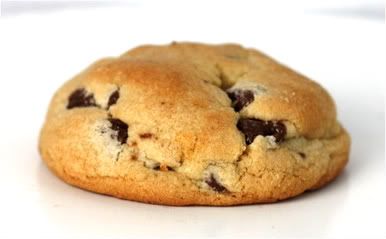 Marie's Famous Chocolate Chip Cookies

(adapted from the Tollhouse Cookie recipe)
3 1/4 cups all-purpose flour
1 teaspoon baking soda
1 teaspoon salt
1 cup (2 sticks) butter, softened
3/4 cup granulated sugar
3/4 cup packed brown sugar
1 teaspoon vanilla extract
2 large eggs
2 cups (12-oz. pkg.) chocolate chips
Preheat oven to 375° F.

Combine flour, baking soda and salt in small bowl. Set aside.
Beat butter, granulated sugar, brown sugar and vanilla extract in large mixer bowl until creamy. Add eggs, one at a time, beating well after each addition. Gradually beat in flour mixture. Stir in chocolate chips.
Divide batter into 24 balls. A large cookie scoop works great for this. Roll the balls in your hand until they are round. Place on a baking sheet.
Position one rack very low in your oven. Position one rack very high in your oven. Place the cookie sheet on the top rack and bake for 6 minutes. Move the cookie sheet to the bottom rack and bake for 6 additional minutes.
Let cool and enjoy!