I've been looking for an easy on the go breakfast. Too often I stop and go through a drive thru. I feel better in the morning when I have some protein, so I thought these would be good. The recipe comes from the Kraft website.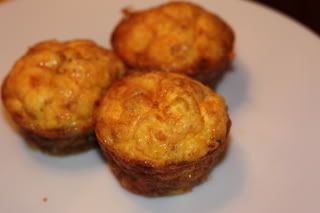 Stuffin' Egg Muffins

1 pkg. (6 oz.) STOVE TOP Stuffing Mix for Chicken
12 eggs
3 Tbsp. OSCAR MAYER Real Bacon Bits
1/2 cup KRAFT Shredded Colby & Monterey Jack Cheese

PREHEAT oven to 400°F. Prepare stuffing mix as directed on package, omitting stand time. Spray muffin cups with cooking spray. Press 1/4 cup stuffing firmly onto bottom and up sides of 12 muffin cups, forming about 1/4-inch rim around top of cup.

CRACK 1 egg into each stuffing cup. Sprinkle with bacon bits and cheese.

BAKE 20 min. or until yolks are set. Let stand 5 min. before serving.