I bought this new pan from
Crate and Barrel
yesterday. I had such high hopes for it!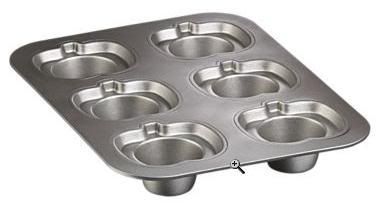 I made my carrot cake recipe to use in it. The directions said to fill the bottom well and also to put batter into the top pumpkin area. Following those directions, my batter expanded in the oven and covered the entire top of the pan! I ended up letting them cool and then using a serrated knife to go back over the pumpkin shape. Pain in the you-know-what, but they did come out super cute.
Then I used more batter to make little mini pumpkins in a pan I have from Williams Sonoma.
Carrot Cake With Cream Cheese Frosting
Cake:
2 cups flour
2 cups sugar
2 tsp salt
2 tsp baking soda
2 tsp cinnamon
1 1/2 cups shortening
4 eggs
3 cups grated carrots
1 cup chopped walnuts (optional)
Frosting:
1 to 2 pounds powdered sugar (depends on how thick you want your frosting)
8 oz. cream cheese
4 Tbs milk
2 tsp vanilla
Cake:
Preheat oven to 350 degrees. Mix dry ingredients. Add shortening and mix well with mixer. Add eggs one at a time. Stir in grated carrots and walnuts. Bake cupcakes for about 30 minutes.