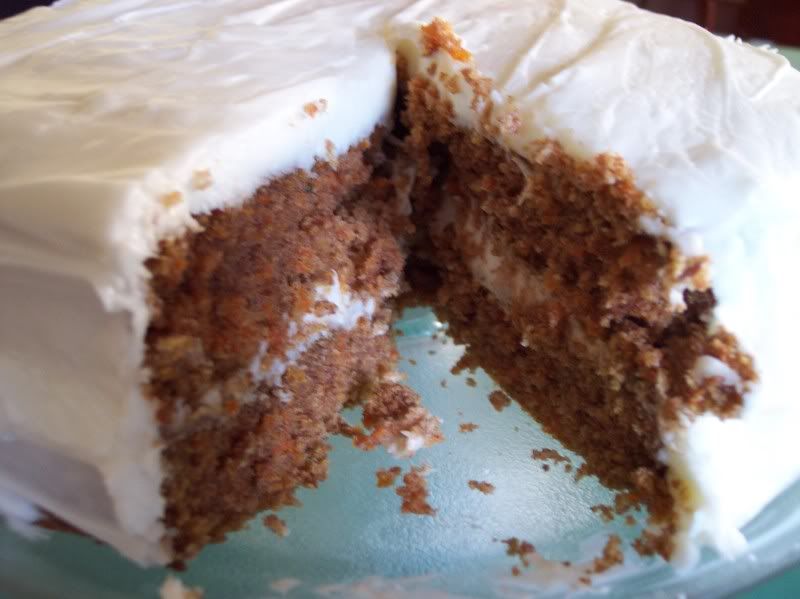 Carrot Cake With Cream Cheese Frosting
Cake:
2 cups flour
2 cups sugar
2 tsp salt
2 tsp baking soda
2 tsp cinnamon
1 1/2 cups shortening
4 eggs
3 cups grated carrots
1 cup chopped walnuts (optional)
Frosting:
1 to 2 pounds powdered sugar (depends on how thick you want your frosting)
8 oz. cream cheese
4 Tbs milk
2 tsp vanilla
Cake:
Preheat oven to 350 degrees. Mix dry ingredients. Add shortening and mix well with mixer. Add eggs one at a time. Stir in grated carrots and walnuts.
Pour into 2 greased and floured 9 inch cake pans. Bake at 350 degrees for 40-45 minutes or until center is done. let cool 15 minutes in pans. Then remove to cool on wire racks.
Frosting:
Combine powdered sugar with cream cheese. Beat well with mixer. Add milk and vanilla. Continue mixing until smooth.
If you have used less sugar to make your frosting, pour half of the frosting on the bottom layer of the cake. Add the second layer of cake and then pour the remaining frosting over the top layer. Allow it to run down the sides of the cake.
If you have used more sugar to make your frosting, frost as you would any 2 layer cake covering all outside portions of cake. Cover and refrigerate.
This cake is best after setting a few hours or sitting overnight in the refrigerator.