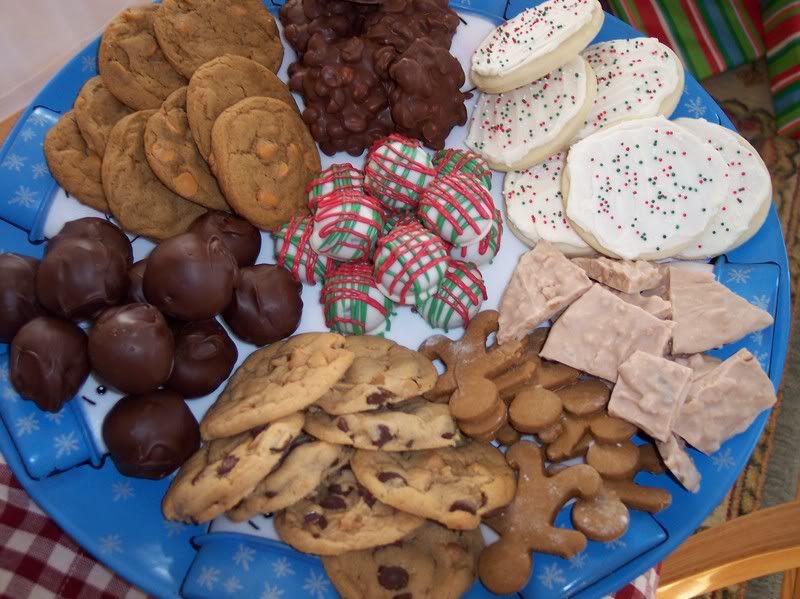 Included on the tray this year:
Peanut Butter Balls

2 lbs. peanut butter
1 lb. butter or margarine, melted
3 lbs. confectioner's sugar
4 12oz. packages chocolate chips
4 Tbs. vegetable shortening
Mix peanut butter and melted butter with confectioner's sugar. Form small balls and refrigerate overnight.
Melt chocolate chips and vegetable shortening (double boiler or microwave)
Dip peanut butter balls into chocolate mixture. Put on wax paper after dipping. Store in refrigerator.
Peanut Clusters
12 oz. semi-sweet chocolate chips
12 oz. milk chocolate chips
12 oz. almond bark
24 oz. salted peanuts
Melt all chips on low. Stir till melted. Drop by teaspoonfuls onto waxed paper. Chill to set. Best if kept refrigerated.
Toffee Bark
Melt 16 oz. of almond bark. Stir in 1/2 bag toffee bits and 1/2 bag chocolate covered toffee bits. Spread in a jelly roll pan lined with wax paper. Refrigerate and break into pieces.
Gingerbread Men
½ cup brown sugar
½ cup shortening
¾ cup dark molasses
1/3 cup cold water
3 ½ cups all purpose flour
1 tsp. baking soda
1 tsp. ginger
½ tsp. salt
½ tsp. ground allspice
½ tsp. ground cloves
½ tsp. ground cinnamon
Mix brown sugar, shortening, molasses, and water. Stir in remaining ingredients. Cover and refrigerate at least 2 hours.
Roll out dough to ¼" thick. Place 2" apart on lightly greased sheet. Bake at 350 degrees for 10 minutes.
Chocolate Chip Peanut Butter Cookies
½ cup shortening
¾ cup peanut butter
1 ¼ cups brown sugar
1 Tbs. vanilla
3 Tbs. milk
1 egg
¾ tsp. baking soda
¼ tsp. salt
1 ¾ cups flour
1 bag mixed chips (chocolate and peanut butter)
Bake at 375 degrees for 8-10 minutes.
Butterscotch Gingerbread Cookies

3 cups all-purpose flour
2 teaspoons baking soda
1 1/2 teaspoons ground cinnamon
1 1/2 teaspoons ground ginger
3/4 teaspoon ground cloves
1/2 teaspoon salt
1 cup butter or margarine, softened
1 1/2 cups packed brown sugar
1 large egg
1/3 cup mild molasses
1 (12-ounce) package or 2 cups NESTLÉ® TOLL HOUSE® Butterscotch Flavored Morsels
PREHEAT oven to 350°F.
COMBINE flour, baking soda, cinnamon, ginger, cloves and salt in small bowl.
BEAT butter, sugar, egg and molasses in a large mixing bowl until creamy. Gradually beat in flour mixture until well blended. Stir in morsels. Drop by rounded tablespoon onto ungreased baking sheets.
BAKE for 9 to 11 minutes, or until cookies are lightly browned. Cool on baking sheets for 2 minutes; remove to wire racks to cool completely.
Makes 24.
Frosted Sugar Cookies

¾ cup sugar
½ cup butter or margarine
1 egg
½ cup sour cream
1 tsp. vanilla
½ tsp. baking soda
1 tsp. baking powder
3 cups flour
½ tsp. salt
Cream sugar and butter. Add egg, sour cream, and vanilla. Mix well at medium speed. Add soda, baking powder, salt, and flour.
Chill overnight. Roll out ¼" thick.
Bake at 350 degrees for 8 minutes. Cool, frost, and decorate. Makes 2 dozen cookies.
Oreo Truffles

1 package Double Stuffed Oreos
1 block cream cheese
Almond bard
Colored candy melts
Finely crush Oreos in the food processor. Add block of cream cheese and mix with hands. Use a small cookie scoop to form small balls. Place on wax paper covered cookie sheet. Freeze for 30 minutes.
Melt almond bark in microwave safe bowl. Dip balls into almond bark and place back on wax paper. Allow to harden.
Melt red and green candy melts in separate ziploc bags. Cut off the tip of one color and drizzle over the top of truffles. Drizzle the other color in the opposite direction. Store in the refrigerator.
Chocolate Pretzel Snaps
(not pictured)
Pretzel snaps
Red and green colored candy melts
Red and green M&M's
Place pretzel snaps in a single layer on a wax paper lined cookie sheet. Place one candy melt on each pretzel. Place in the oven for about 1-2 minutes at 350 degrees. Take out and immediately press the opposite color M&M on the top. Allow to harden.