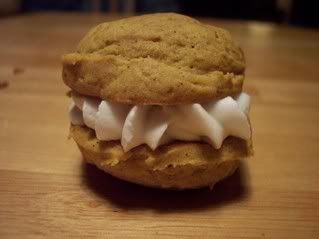 Pumpkin Whoopie Pies
2 cups shortening
2 cups sugar
2 eggs
2 tsp vanilla
4 tsp cinnamon
1 tsp salt
5 cups flour
2 tsp baking soda
2 tsp baking powder
2 cups pumpkin
Filling (recipe follows)
Mix together shortening, sugar, eggs, vanilla, cinnamon and salt.
Add flour, baking soda, baking powder, and pumpkin. Mix well.
Drop by teaspoon on ungreased cookie sheet. Flatten and smooth out a little since they don't spread much.
Bake at 350 for 12-15 minutes.
Filling
2 pounds powdered sugar
1 package cream cheese
1 tsp. vanilla
Milk by the Tablespoonful until desired consistency
Combine the sugar and cream cheese. Add vanilla and milk until desired consistency. Pipe frosting onto the bottom of a cookie. Add another cookie on top to make a sandwich.