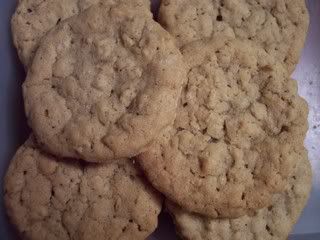 Oatmeal Cookies

1/2 cup granulated sugar
1/2 cup packed brown sugar
5 tablespoons butter, softened
4 tablespoons shortening, I use the trans fat free kind
1 large egg
1/2 teaspoon vanilla
1 cup unbleached white flour
1/4 teaspoon baking soda
1/2 teaspoon ground cinnamon
1/4 teaspoon baking powder
1/4 teaspoon salt
1 1/2 cups regular or quick cooking oats, not instant
Using high speed of electric mixer, beat both sugars, butter, and shortening. Beat in egg and vanilla.
Sift together remaining flour, soda, cinnamon, baking powder and salt. Combine flour mixture with oats and add to batter.

Chill dough for at least one hour.
Form chilled dough into rounds a little smaller than a golfball, then press rounds into ½ inch thick discs. Place discs 2 inches apart on a parchment or silpat or non-stick baking sheet. If you do not wish to make the dough at this time, place the discs into freezer bags and chill or freeze until ready.

Bake for 10-12 minutes in a preheated 375 degree oven.