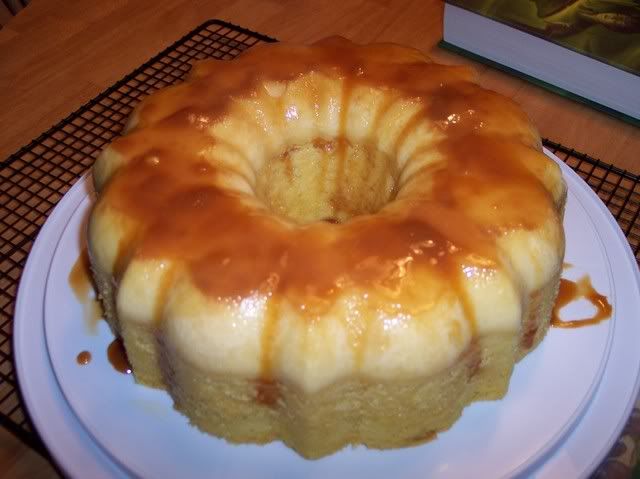 Flan Cake
1/4 cup caramel syrup
1 yellow cake mix prepared according to box directions
4 eggs
1 can sweetened condensed milk
1 can evaporated milk (the 12 oz. size)
Preheat oven to 350 degrees. Spray metal bundt pan heavily with Pam. Pour 1/4 cup of caramel syrup in bottom of pan.
Prepare 1 yellow cake mix according to box directions. Pour on top of caramel in bundt pan.
In a blender, mix 4 eggs, 1 can sweetened condensed milk, and 1 can evaporated milk. Pour over cake mix in bundt pan.
Place bundt pan in a water bath. Bake for 60 minutes at 350 degrees. Remove from oven and let sit in water bath for an additional 15 minutes. Cool cake completely before removing from bundt pan.
**The flan layer that you pour on the top ends up sinking to the bottom so it actually ends up on the top of the cake.